Electronic & Equipment Recycling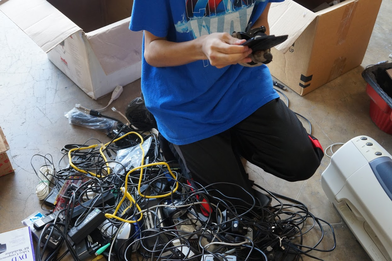 Here's a list of items you can send us for recycling. Please note that if you have any items not listed below, you can contact us to inquire if we are able to accept them.
Computers

PC's (all types)

Mainframes

Workstations

Servers

Laptop/Mobile

computing equipment

Networking Equipment

Hubs

Switches

Racks

UPS/APC Power

Conversion

Cables/Cabling

Printers

Surge Protectors

Computer Monitors that are LCD/TFT

TVs that are LCD Flat screen (No CRT glass or rear projection TV pricing)


Micro Electronics-Circuit cards

Ram/Memory Cards




Disk Drives

Scanners

Fax Machines

Printers (all types)

Miscellaneous Electronic Equipment

Typewriters
Cell phones
Copiers (toner cartridges out)
Multifunction Units
Batteries (selected)
Scientific Equipment (selected)
Electronic Cash Registers
Telecommunications Equipment (selected)
Telephone Systems
PDA's Palm & Pocket PCs
Satellite Systems
VCR's-VCR machines and DVD Players
Cassette Players
Electronic Games and video game consoles
Mp3 Players
Automobile (computer modules)
Radios (selected)
CD Players
Security Systems (selected)
Military hardware (navigation, aerospace)
Laboratory Electronics (selected)
Photographic Sound & Visual Equipment (selected-no wood)
Sound Recording Equipment (selected-no wood)
Camera/Digital/Projection (selected)
---
* Some items listed may have a recycling processing fee, you can
contact us
for more information.
If you wish to recycle electronic equipment, please fill out our request form.