We strive for a landfill free environment

Call (210)521-7612


What We Offer

Corona Visions will ensure that your sensitive information is safely secure.

Corona Visions will ensure that your data is protected and will be with you every step of the way



Corona Visions understands corporate requirements relating to data confidentiality and privacy.

Corona Visions knows that providing clients with an ultra-secure method for IT asset destruction and recycling includes documenting the entire process

The equipment is stored in a secure storage facility
A Technician then wipes assets of all data
Computers are then stripped of all identification
All equipment deemed unusable is then recycled


Corona Visions offers solutions of reliable options including remote Hard-Drive Data removal, on-site or remote mechanical shredding of hard drives and tape media, and removal or destruction of client data.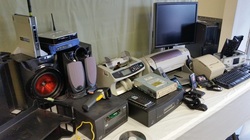 New Regrind for DIY extruders.

Corona Visions has been working on reusing high grade ABS plastic from the old electronic that we dismantle for the use in our 3D printers. For more information see Filament under Services

---